Organic crystallized ginger
Our organic ginger is cultivated in an untouched valley in the tropical area of China with the oldest ginger growing tradition in the continent.
I still remember the way the farmers would point at me the first time I visited because they never saw a man from the west before. The ginger factory back then was one of the few having an automobile and we had to continuously honk the horn to alert the multitude of pedestrians walking or biking in the streets. The people in the valley are simple and very kind and their economics are very rural. For example, in 2002 barter was the most common way of exchange. In this regard, the officials congratulated our business in 2006 because every farmer's family could then afford a washing machine.
I thought that was a nice recognition and I felt proud to have affected so many lives.
AVAILABLE IN MANY UNIQUE SHAPES
Organic Crystallized/CANDIED Ginger Chunks
Our organic ginger is peeled in season and preserved in a brine solution. This is maintained until ready to be cut to the appropriate sizes for the various usages and orders. This helps ensure shelf life for the products once delivered and keeps the product fresh for your end user, customers.
We can cut many sizes from rough cuts to 16x16mm chunks. Once these are cut then cooked and processed per your specifications, they are then dried and crystallized with organic sugar or left in an organic syrup to maintain softness.
Many buy these in cuts of 12-16 mm chunks as they are a nice bite size to repack or have packed for snacks. Different types of manufactures have other types made for their specific usage. For example the 10-12mm is used for ginger covered chocolates. The other usage would be the small pieces 2-7mm (which we call 3094); these are wonderful to add to chocolate bars, home made cereal, baking, as a retail spice or trail mixes. All our organic gingers can be supplied Fair Trade as well.
Organic Crystallized/CANDIED Ginger SLICES
This is a fairly new product for us that we took on due to a request of a customer. This product did not exist as an organic product until we developed it.
This is a nice snack and again great dipped in chocolate.
We can supply this in 11 Lbs, 44 Lbs and retail bags to your specifications. These are again sliced to order and manufactured to keep it fresh and a better shelf life.
We can supply this enrobed/dusted powdered sugar or even organic rice flour to make it less sweet. We can even control the spiciness of the gingers to your specifications.
We can supply this as Fair Trade, organic or natural - using organic ginger and non organic sugar.
Organic Crystallized/CANDIED Ginger Medallions
The ginger is cut to order and we are able to make these amazing medallion shapes which are extremely popular.
As it's the root you will get the spicy center and less spicy edge. Really nice snack and chocolatiers cover these entirely or partially in chocolate.
The snacks are normally supplied in organic sugar crystals and the covered chocolates get these in an organic syrup to make it easier to process.
They need to be soft and juice which this is done with the syrup products. Ice cream manufactures should also always use candied ginger pieces so the end user can bite through easily.
Organic Crystallized Ginger Medallions can be supplied Fair Trade as well.
HOW WE PRODUCE OUR ORGANIC CRYSTALLIZED GINGER
THE FARM
The same farms produce in organic rotation; bamboo, rice, soy, lily bulbs and so on. More than 80% of the valley land that is occupied is protected virgin forests, which make the landscape very green all year around. On the upper levels of the mountains, kiwis grow wild and I learned that area is the place where kiwi originated from on the planet.
The valley has several water springs and cascades which make the environment look pure and uncontaminated. Several multi residual pesticide analysis have been performed on the land throughout the last 10 years. On the fresh ginger, local water and, the sugar showed that the area and the ingredients are really uncontaminated. We even went as far as repeating the same analysis made in China in a European accredited laboratory, with the lowest detection limit the trade could offer, which confirmed the crystalline state of the farming and processing involved with our organic ginger.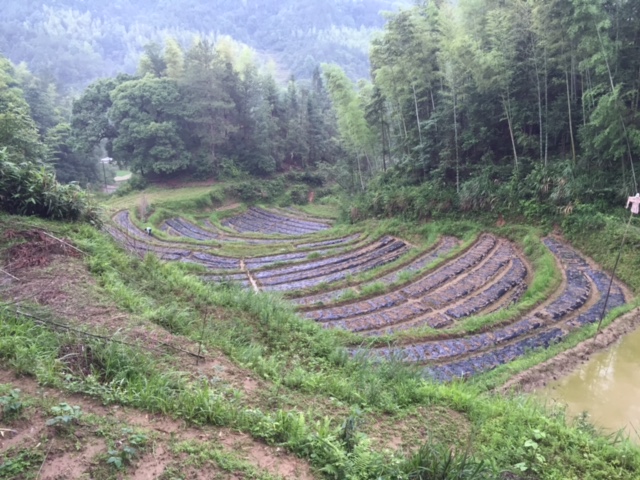 QUALITY ASSURANCE
Our quality assurance works relentlessly to assure customer satisfaction and does not stop searching for correct technologies and procedures until product standards and consumer satisfaction are achieved. Organic farmers that work in the valley have techniques of sweeping simplicity and very practical.
The factory of our ginger project is fully dedicated to organic and purpose-built in 2001, just half an hour away from the organic farms. The manufacturing Quality Management System and the HACCP (Hazard Analysis and Critical Control Point) are both certified per ISO standards since 2005.
The farms and the factory are certified organic based on the European Organic standards, the NOP (National Organic Program) and USDA (United States Department of Agriculture) standards, since 2002. About 80 people work in the food factory, everyone specialized in their specific duties by the internal training program and is organized based on a modern organizational board.
Once the organic ginger is received from the valley, it's checked for its quality and processed straight away following antique Chinese tradition, which was implemented by the Ming Emperor - the first ginger lover ever recorded. After the candying process, the ginger is drained completely, rolled on sugar crystals and slightly dried before packing.